WorkBench

Start Page

This view is opened when you start WorkBench. The view contains tiles which provide differing functionality. Not all tiles may be present when you open WorkBench.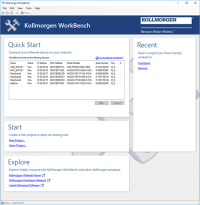 The options which may be available include:
Quick Start — This tile displays a list of all compatible

Kollmorgen

physical devices, discoverable by

WorkBench

, which are connected to your Ethernet network.

Connecting to a device using either method:

Double-click on the row in the list
Select the row and click Connect

WorkBench automatically creates a project and opens the selected device within the project.

Start

New Project — Create a new, empty project file
Open Project — Open an existing project file

For more information on project files see Project Files.

Explore — A list of useful resource links you may visit to learn more about

Kollmorgen

products
Recent — A list of projects recently opened in

WorkBench
See Troubleshooting and FAQs if you have any problems with opening or creating projects.