AKT2G

-SM-L15-000

Stepper motor terminal, 24 V DC, 1.5 A, vector control

The AKT2G-SM-L15 EtherCAT

***EtherCAT is an open, high-performance Ethernet-based fieldbus system. The development goal of EtherCAT was to apply Ethernet to automation applications which require short data update times (also called cycle times) with low communication jitter (for synchronization purposes) and low hardware costs Terminal is intended for stepper motors with low performance range. The PWM output stages cover a wide range of voltages and currents. Together with two inputs for limit switches, they are located in the EtherCAT Terminal.
The SM-L15 can be adjusted to the motor and the application by changing just a few parameters. These stepper motors can be operated with vector control. This control technique offers various benefits, such as better dynamics and lower power consumption. Together with a stepper motor and an encoder, the SM-L15 represents an inexpensive small servo axis.
The LEDs indicate status, warning and error messages as well as possibly active limitations.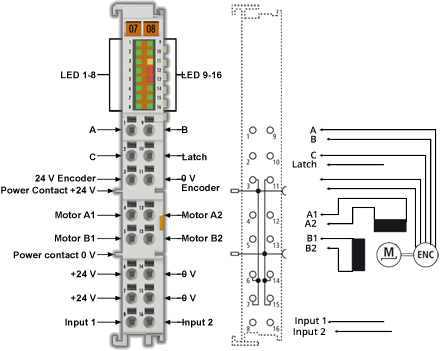 Quick Links
Technical Data
Technical Data

AKT2G

-SM-L15
Number of outputs
1 stepper motor, 2 phases
Number of digital inputs
2 limit position, 4 for an encoder system
Number of digital outputs
1 configurable for brake (0.5 A)
Supply voltage
24 V DC (-15%/+20%)
Motor Current/Phase (RMS) values without fan cartridge ZB8610
1.06 A
Motor Current/Phase (RMS) values with fan cartridge ZB8610
1.12 A
Maximum output current without fan cartridge ZB8610
1.5 A (overload- and short-circuit-proof)
Maximum output current with fan cartridge ZB8610
3.0 A (overload- and short-circuit-proof)
Operating modes

Standard mode (velocity direct / position controller)
Field-oriented control (extended velocity mode / extended position mode)
Sensorless operation
Travel distance control (positioning interface)

Maximum step frequency
1000, 2000, 4000, 8000 or 16000 full steps/s (configurable)
Step pattern
up to 64-fold micro stepping (automatic switching, speed-dependent)
Current controller frequency
approx. 30 kHz
Encoder pulse frequency
maximum 400,000 increments/s (4-fold evaluation)
Input signal voltage "0"
-3 V … 2 V
Input signal voltage "1"
3.7 V … 28 V
Input Current
typ. 5 mA
Diagnostics LED
Warning strand A and B, error strand A and B, power, enable
Resolution
approx. 5,000 positions in typical applications (per revolution)
Power Supply
via the E-bus, encoder/driver stage: via the power contacts, motor: via terminal contacts
Current consumption from the E-bus
typ. 100 mA
Electrical isolation
500 V (E-bus/signal voltage)
Support NoCoEStorage
yes
Configuration
no address setting required
Weight
approx. 60 g
Permissible ambient temperature range during operation
0°C ... +55°C
Permissible ambient temperature range during storage
-25°C ... + 85°C
Permissible relative humidity
95%, no condensation
Dimensions (W x H x D)
approx. 27 mm x 100 mm x 70 mm (connected width: 24 mm)
Installation
on 35 mm mounting rail according to EN 60715
Vibration / shock resistance
conforms to EN 60068-2-6/EN 60068-2-27
EMC immunity/emission
according to EN 61000-6-2 / EN 61000-6-4
according to IEC

"International Electrotechnical Commission" IEC is a not-for-profit, non-governmental international standards organization that prepares and publishes International Standards for all electrical, electronic and related technologies

/EN 61800-3
EMC category
Category C3 - standard
Category C2, C1 - auxiliary filter required
Protection class
IP 20
Installation position

without fan cartridge ZB8610: standard installing position
with fan cartridge ZB8610: standard installing position, other installing positions (example 1 & 2)

Approval
CE cULus