REGEN.TEST
Description
REGEN.TEST can be used to check for an open circuit condition, e.g. cable not connected properly or misconfiguration of expected regen resistance to actual connected one.
Preconditions:
Drive must be disabled
Mains need to be connected
Setup:
The regen is configured by the following keywords:
REGEN.TESTTO: sets a test timeout in ms.
REGEN.TESTVTHRESH: defines a VBUS.VALUE threshold value in percentage for the algorithm to pass the test.
Algorithm:
When the command is executed, the inrush relay is opened, and the dc bus (VBUS.VALUE) is discharged via the regen resistor until either the VBUS.VALUE has reached the percentage value defined in REGEN.TESTVTHRESH or the timeout defined in REGEN.TESTTO has been reached. The maximum power used during this test procedure is 50% of the selected regen resistor constant power rating (REGEN.WATTEXT).
When the timeout has been reached, the F634 is thrown and the power stage is disabled.
The following graph shows this test procedure. In this example, a regen resistor with 6000 Watt is connected and the dc bus voltage is around 590 Volts, before executing the REGEN.TEST command. The REGEN.TESTVHTRESH is set to 80%.
When the command is executed and dc bus voltage is discharged via the connected regen resistor, the used regen power is around 3000 Watt and the dc bus is discharged to a value around 472 Volts (which is 80% of the start value). The regen is discharged before the timeout (REGEN.TESTTO) is reached; therefore, the test passed and the bus is charged again normally.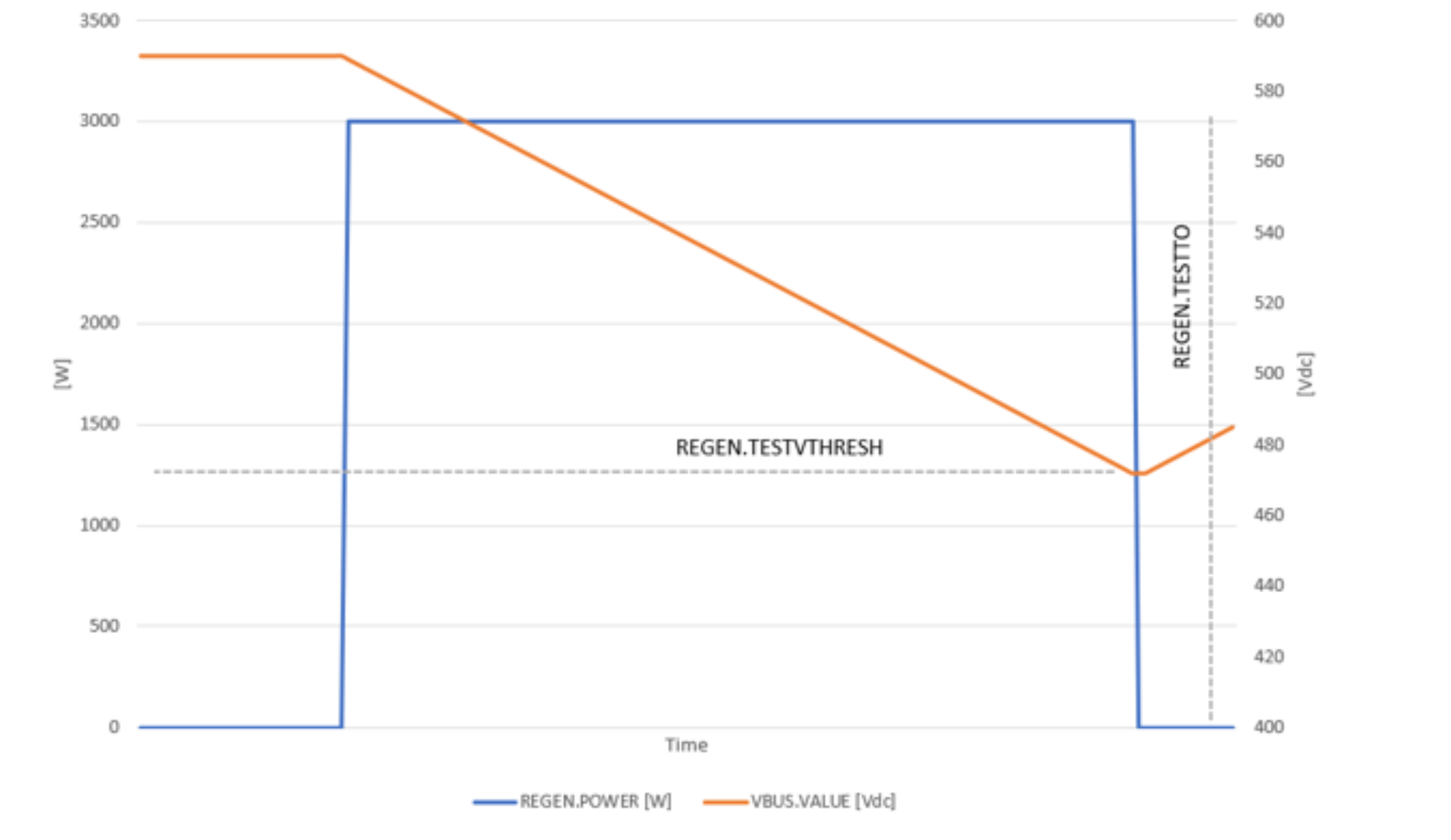 General Information
| | |
| --- | --- |
| Type | Command |
| Description | Test if regen resistor is connected properly. |
| Units | N/A |
| Range | N/A |
| Default Value | N/A |
| Data Type | N/A |
| Start Version | M_01-18-06-000 |
Variants Supported
Variant
Supported

AKD

Base
Yes

AKD

with Position Indexer
Yes

AKD

EtherCAT
Yes

AKD

CANopen
Yes

AKD BASIC

Yes

AKD

SynqNet
Yes*

AKD

EtherNet/IP
Yes

AKD

Profinet
Yes

AKD

sercos® III
Yes

AKD

-N
No

AKD

-C
Yes
*In SynqNet, a parameter may be available in the firmware but have no effect on the system. See SynqNet Supported Parameters.
Fieldbus Information
If your drive type is listed as supported but no index, address, or instance number is listed, then this parameter is accessible through WorkBench, but not over your fieldbus type. For information on SynqNet parameters see SynqNet Supported Parameters.
Related Topics